En gång per år delas det prestigefyllda priset Colam Sustainability Award ut. Årets pris i kategorin Hälsa och välbefinnande vanns av Elektroskandia Sverige med initiativet "Hälso-utmaningen". 
Holdingbolaget Colam är majoritetsägare i Elektroskandias moderbolag Sonepar, världens största elgrossist. Hållbarhet är ett fokusområde och de vill uppmärksamma goda initiativ på området inom koncernens bolag. Därför har man institftat priset Colam Sustainability Award som i år delades ut i de tre kategorierna "Health and well-being", "Diversity and Inclusion" och "Learning". I år kom det in hela 42 bidrag från koncernens olika bolag. Vinnare i kategorin "Health and well-being" blev Elektroskandia Sverige medan de övriga priserna vanns av Sonepar Brasilien och Sonepar Indien. Priset mottogs vid en stor gala i Paris den 14:e oktober av Elektroskandias HR-direktör Åsa Pantzar samt Malin Stenquist, HR Business Partner och Amanda Kurén, Executive Assistent.
Colam Sustainability Awards-juryn består av två personer från ägarfamiljerna, två externa medlemmar och två Soneparmedarbetare. Motiveringen till Elektroskandias vinnande bidrag lyder: 
"Projektet "Hälsoutmaningen" engagerade de anställda och bidrar till att skapa en trivsam arbetsmiljö samtidigt som det fokuserar på vikten av en hälsosam livsstil. Det här är ett verkligt hållbart initiativ med effekter på såväl hälsa och välbefinnande som laganda och balans i arbetet".
– Vi är givetvis väldigt glada och hedrade att bli uppmärksammade på detta sätt för vårt långsiktiga arbete inom hälsa och välbefinnande. Under maj månad arrangerade vi "Hälsoutmaningen" som gick ut på att skapa förutsättningar för våra medarbetare att ha ett hälsosamt arbetsliv. Hela organisationen var inblandad och uppdelad i lag om 10 till 12 personer i varje. Till deras hjälp hade de Twitch-appen, som ger användarna tillgång till hälsa var de än befinner sig. Allt från mental och fysisk träning, till kostråd, chatt med hälsocoach och föreläsningar. Det gällde för alla att samla poäng genom att göra hälsosamma val, säger Åsa Pantzar och fortsätter: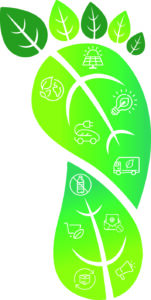 – För att få ordentligt genomslag internt bedrev vi en intensiv kommunikationskampanj där vi använde alla olika kanaler. Cheferna peppades för att få med sig medarbetarna, vi utsåg hälsoambassadörer som hejade på, vi skickade ut medarbetarbrev, tog fram affischer, gjorde en film m.m. Och det hela gav resultat då hela 70 procent av våra anställda var med i "Hälsoutmaningen". Den här utmärkelsen stärker oss i att fortsätta vårt långsiktiga arbete för att främja hälsa och välmående bland våra med-arbetare vilket i slutändan också stärker företagets konkurrenskraft.